Back
Account Coordinator


Poznan

,

Wroclaw

,

Gdansk
Do you wish to shape the future of computing systems? Join the Antmicro team and take responsibility for maintaining great working relationships with our clients with a particular focus on further development of business with existing customer accounts across EU and US markets.
Antmicro's sales team is made up of highly skilled professionals who help our customers grow faster and become more efficient in the high-tech market. We provide interested prospects with the right information and the right context at the right time to help decision-makers fully understand Antmicro's vision and explain how our technology services can be employed to solve their business problems. We build and foster persistent relationships with the largest stakeholders in the new tech and silicon industry, including Intel, NXP, Nvidia, Xilinx and Google, and we are leading the charge to bring about a new wave of open source processing technologies as active members of RISC-V Foundation and CHIPS Alliance.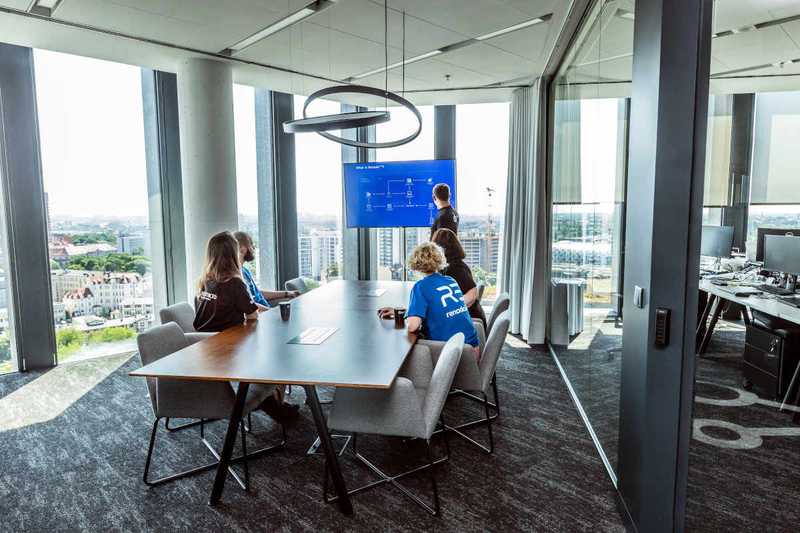 As a business development team of a disruptive brand, we take care to develop thorough and in-depth knowledge regarding all aspects of Antmicro's products and solutions and how they relate to the company's underlying vision of driving development even in traditionally closed and proprietary domains through open source and collaboration. To effectively perform our consultative and solution-based sales strategy, we learn all about the relevant technologies and identify product applications by studying existing trends and setting new ones by spreading innovative technologies. Throughout the year we organize and conduct trade shows, conferences, seminars and other marketing events to reach and develop our customer base.
As an Account Coordinator, you'll manage relationships with a range of Antmicro's clients and develop a thorough understanding of their business objectives, goals and challenges. Success in this position requires a proactive consultative sales attitude. You will coach, educate, support your clients and be the first point of contact for any and all matters specific to your clients' high-tech project. This includes, but is not limited to, escalation and troubleshooting to identify potential issues.
Your key role is to anticipate and pursue new business opportunities within managed accounts and identify suitable product and service offerings to satisfy our clients' requirements and drive their long-term success.
You will liaise with the Business Development and the Marketing team in order to build comprehensive solutions for our customers. You will be tasked to provide product feedback to Antmicro's technical teams regarding the quality and applicability of services relevant to your book of business.
Your duties will also include providing key market insights to the business team and input on the development of marketing materials created for your managed clients.
Requirements
minimum Bachelor's degree either in a business or engineering field
2+ years of experience in managing B2B relations within customer sales & support, agency account management, consulting or project management
strong analytical, numerical and presentation skills
ability to prioritize and manage tasks
high self-motivation to take initiative and maintain ownership of tasks
fluency in English, highly articulate with excellent verbal and written communication skills
ready to travel for business when necessary
team-oriented personality, with strong communication and influencing skills and an ability to resolve partner (internal colleagues and external customers) problems effectively
openness to further education and growth
technical knowledge, understanding of and passion for high-tech are nice-to-have assets
experience launching new businesses/products is welcome
full-time employment only (no B2B, no agencies)
valid work permit for Poland/European Union
This is an onsite opportunity. For a list of offices see our locations pages.
If you meet the listed criteria and want to join our team, apply by filling in our application form.
If you are still studying full-time, but wish to apply for the position in the future, you can take an internship program with us.
We reserve the right to reply only to selected applications.